TBS Kylone Media Server
Kylone Media Server is a server software for Video transport and IPTV services. It provides a fast way to build up your own IPTV system in the ISP network, GPON network, Hotels, Communities, etc.
Based with Kylone IPTV media server and variety of high class headend servers, TBS provides complex, flexible and cost-effectively IPTV solutions for communities, Hotels, Schools or Coffee Shops/Restaurants. TBS IPTV systems support both Multicast and Unicast, delivering live televisions, movies, On-Demand contents, and even customized contents specific to your recipients.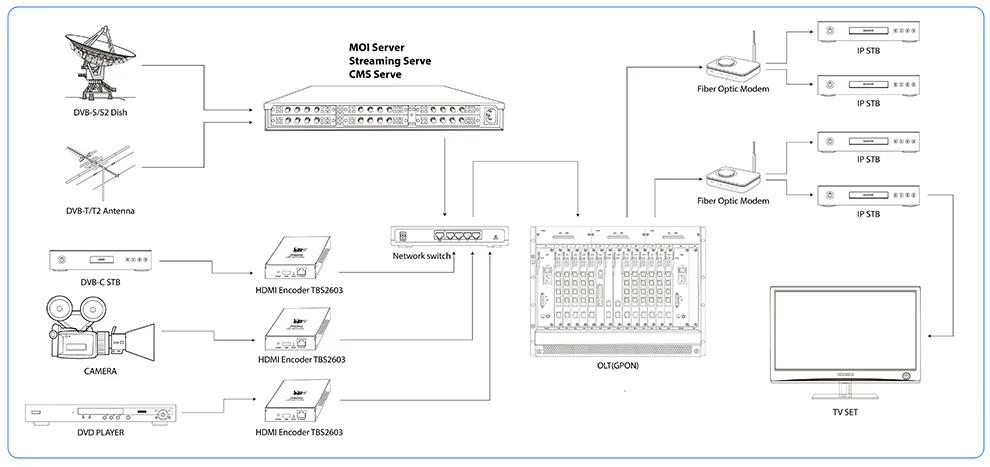 TBS 8520/8510 IPTV Transcoder
TBS8520/8510 IPTV Transcoder is designed for our TBS TV tuner card customers. It's a high-performance video server that features in high integration and reliable hardware transcoding server.
Since the original data rate from DVB channels is too high to be streamed throught internet directly. It will cost a lot of bandwidth, then you have to use both receiving server and transcode server to lowdown the bit rate. This is a very costly and inconvenient solution.
Now with TBS8520/8510 real-time transcoder server, you can implement receiving and transcode at the same time. With Two Giga Ethernet Ports, it can be configured to transcode up to 80SD or 30 Full HD streams, and equipped with 2 TBS Tuner/Capture PCI-e card (with up to 16 inquencies input) to receive channels directly from satellite or ASI / IP inputs to receive digital channels.
TBS 2605 HDMI Video Encoder
---- 2 Channels of 4K
---- 5 Channelsof 1080P 60hz
TBS2605 HDMI Video encoder not only supports 2 channels 4K or 5 channels H.265 encoding, but also supports multiprotocol output. Each channel supports HTTP/HLS/RTMP/RTSP/UDP protocols outputting simultaneously, which is ideal for the customers who need to output with different protocols.